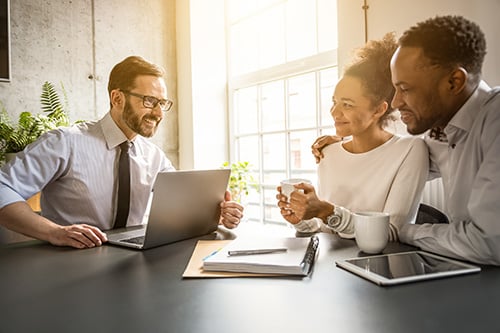 Happy New Year! All of us at Calyx hope that you and your families enjoyed a safe and happy holiday season. As we plan for the year ahead, one priority that hasn't changed for Calyx is the importance we place on supporting the mortgage broker community.
Let's take a look back on the most significant ways Calyx supported brokers in 2019.
NAMB All-In
While others only talked about a free, cloud-based loan origination system (LOS) for brokers, Calyx delivered it with the launch of NAMB All-In. Available exclusively to NAMB members, NAMB All-In offers brokers the three essential components they need to conduct business: A point-of-sale (POS) solution, a cloud-based LOS, and a single point of access to premier wholesale lenders.
The POS enables borrowers to initiate a loan application and begin the asset verification process. The LOS helps mortgage brokers manage all incoming online applications, exchange and store documents, and provides simultaneous support for both the current and upcoming Uniform Residential Loan Application (URLA).
Zip Enhancements
We're always striving to make brokers' jobs easier. That's why we rolled out several enhancements for Zip, our borrower interview and point-of-sale last year. These enhancements included:
Enabled Zip Administrators to download electronic disclosures and borrower-uploaded documents
Added a new lead invite button which allows the broker to send a quick text or email link invitation to prospective borrowers
Enhanced Zip loan submission email notification for easier tracking and management
Added more document management features to enable brokers to enjoy the flexibility to manage or delete manually-added documents
Enhanced controls around loan access rights by enabling Zip Administrators to configure a user's access to specific loan files
These enhancements improve the broker's ease of use and elevate the borrower experience.
Calyx Wholesaler MarketPlace
The ability for brokers to connect with participating wholesale lenders directly from within their LOS file via a single portal became a reality last year with the launch of Calyx Wholesaler MarketPlace.
Participating wholesalers include Caliber Home Loans, Quicken Loans, Flagstar Bank, Freedom Mortgage, Plaza Home Mortgage, Sierra Pacific Mortgage, and Cardinal Financial Company. Additional lenders are in the process of integration with launches coming soon. In addition to loan submissions, select wholesalers enable brokers to transfer authorized digital bank statement data and receive loan documents.
Customer Portal
The Calyx Customer Portal, which launched in May, gives brokers instant access to hundreds of valuable resources anytime, from anywhere. Quickly find information about product updates, Calyx webinars, industry news, events, and more. The portal houses training/Knowledge Base articles and videos, urgent communications, blogs, and seamlessly connects to MyCalyx/WebCaster administration.
And this is only the beginning. We already have so much in store for brokers in 2020 and we're always looking for new ways to demonstrate our support. If you're a broker with a suggestion or recommendation for us, please let us know. We are happy to hear from you.
Thank you for choosing Calyx. We look forward to continuing to serve you and your business in 2020.