1. Open the
Borrower Information
screen.
2. Click the
Mtg Insurance
button to open the
PMI/MIP/FF/USDA
dialog box.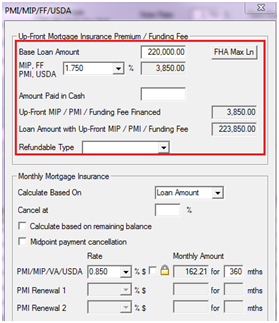 3. Enter the up-front mortgage insurance percentage in the
MIP, FF, PMI, USDA
field.
4. Open page 4 of the
Loan Application
.
5. Click the
CC Adjustments for FHA
button in the
Details of Transaction
section to access the
FHA Additional Itemized Closing Costs
dialog box.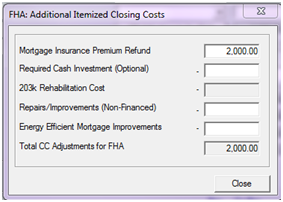 6. Enter the refund amount in the
Mortgage Insurance Premium Refund
field.
7. Click
Close
.
The refund amount is added to any other adjustments and populated in the CC Adjustments for FHA field.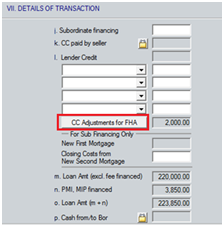 Estimated Cash to Close for Loan Estimate and Loan Application.
The Loan Estimate discloses the up-front mortgage insurance premium refund amount as cash-to-close from borrower (an accounting reconciliation between the lender and HUD).
However, because the refund amount is derived from the UFMIP netted out credit, the borrower's actual cash-to-close includes the amount of the refund on the Loan Estimate and Closing Disclosure. See below for additional details.

Sample loan scenario at closing table
(Fees Worksheet)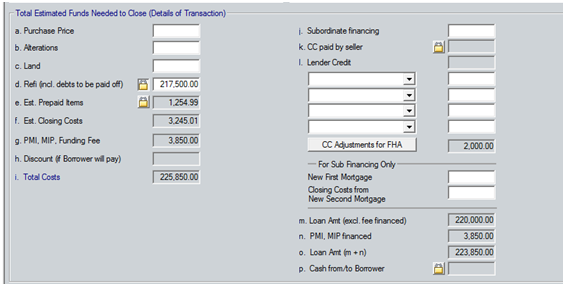 $225,850 was received by the settlement agent and must be disbursed.
$217,500 will go to the payoff lender for payoff balance
$4,500 in Closing costs. (Total Closing Costs $8350) – (financed UFMIP $3850)
$1850 remaining is the net amount due to HUD for the net UFMIP
$3850 is due for the new up-front mortgage insurance premium ($3850 - $2000 credit = $1850 due to HUD)
In this example, the Loan Estimate disclosed $2,000 as Estimated Cash to Close From Borrower. However, this value comes from the UFMIP net credit. Therefore the borrower's actual cash-to-close is $0.00.