The passage of the Housing and Economic Recovery Act (HERA) of 2008 and Title V, the Secure and Fair Enforcement Mortgage Licensing Act (SAFE Act) brings extensive changes to the lending industry. Among the most significant is a requirement for all Loan Originators to be licensed and registered with a national database.
Additionally, the S.A.F.E. Act provides a new federal definition of Loan Originator and requires all States to create and maintain a system for licensing and monitoring Loan Originators so that loan performance may be tracked at the individual loan level.
Enter the Company NMLS Number
From the menu bar, select Utilities > Company Defaults > Company Information.
In the NMLS field, enter the company's 9 digit national mortgage licensing number.
Insert a check into each state to which you are licensed and then enter the company's state license number.
Click OK.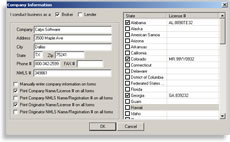 The NMLS number will default for all loan files in the data folder.

The state license number will print on the loan application if the subject property is in the state that you are licensed in.
Enter the Loan Originators NMLS and state license number
From the menu bar, select Utilities > Dropdown List > Originator.
Click Add to add your name or Edit to edit your name entry.
Enter the loan originator's name, NMLS #, and e-mail address.
Check the state to which the originator is licensed in and then enter their state license number.
Click OK.