1129 Enabling the Date Prepared field
SYMPTOM
The Date Prepared field is not available and you are unable to enter a date.
CAUSE
The setting for the GFE/TIL Disclosure in the Point utilities is configured to print the current date. Therefore, the date prepared field in not enabled and not editable.
RESOLUTION
Adjust the Disclosure Date Settings under Utilities.
Re-set the Disclosure Settings in Point utilities.
Open Point.
From the menu bar, select Utilities > Company Defaults > GFE/TIL Disclosure Settings... from the main menu.
The Disclosure Settings dialog box is displayed.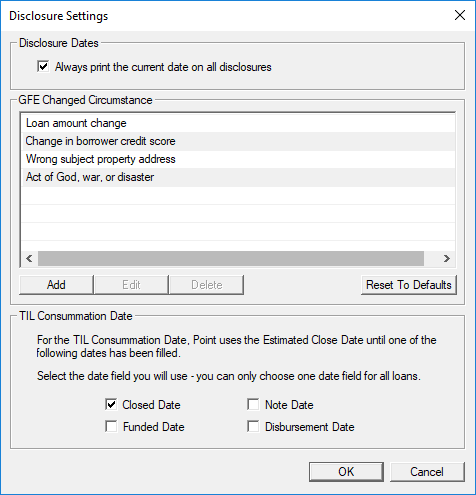 3. Clear the Always print the current date on all disclosures check box.
4. Click OK.