To generate the HMDA report:
1. Select the Reports & Marketing tab from the left Navigation Panel.
2. Choose the data folder you are generating the report for.
3. Select the Prospect or Borrower check box.
Note: You do not need to check the Include Co-Borrowers checkbox as Point will automatically include this information on the HMDA report.
4. Click the Reports radio button.
5. Select Calyx Report - HMDA Report from the dropdown list.
6. Select the appropriate checkboxes for Current Status for your report.
7. Enter a Status Date range.
8. Click the Generate button.

Note: Leave all conditions blank to generate the report for all loans in the folder.
An Export HMDA dialog box will appear.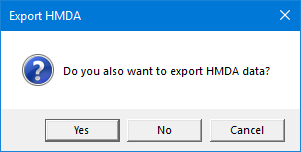 Click Yes if you are generating the report for uploading the results to CFPB.
• The HMDA Loan App Register Information window will open for you to complete, followed by the Export Loan Application Register to HMDA format window for you to save the report as a text file specifically formatted to CFPB upload.
Click No if you are generating the report for reviewing or data correction purposes prior to CFPB upload.
The generated report results will appear for you to review.