Printing the Unmarried Addendum
Note: The articles in this series are for training and practice purposes. The redesigned Loan Application is not being accepted at this time.
The Unmarried Addendum is a print only form to be used with the redesigned Loan Application when applicable.
The enable the Unmarried Addendum to print:
Open a loan file.
Navigate to Loan Application - Section 1.
Scroll to the Marital & Dependents area of section 1a. Personal Information.
Select the Unmarried checkbox.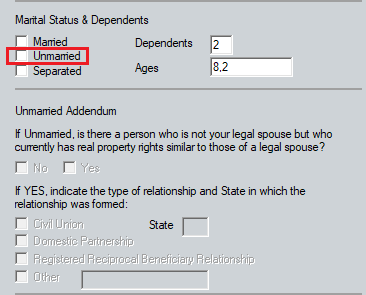 The first set of checkboxes in the Unmarried Addendum section will open.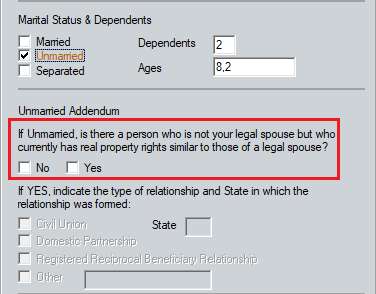 Select the appropriate answer for the borrowers on the file.
If Yes is selected, the remaining checkboxes for the Unmarried Addendum will open.
3. Mark the appropriate checkbox.
You will now be able to print the Unmarried Addendum.