2020 Completing Section 7 & 8 of the redesigned Loan Application form 1003
Loan Application – Section 7 & 8
1. Open a loan file.
2. Navigate to Loan Application – Section 7 either from your left navigation panel, using the Forms menu in your top toolbar, or by clicking the Section 7 button at the bottom of the screen.
3. Make any applicable Military Status selections as pertain to the borrower and the loan.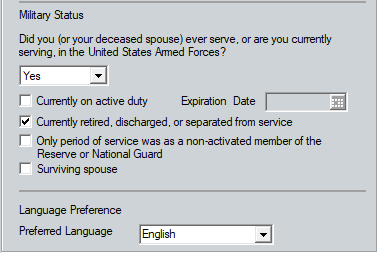 Information from the current loan application addendum screen will carry over to this screen.
4. Verify and complete the sections on this screen.