To complete the Payoffs and Payments screen:
1. Click the
Payoffs & Payments
button from the command bar on any page of the
Closing Disclosure
screen.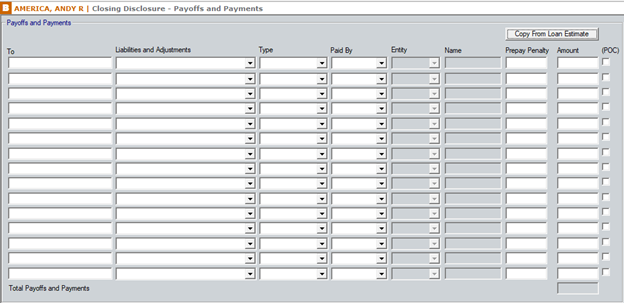 2. Click the Copy From Loan Estimate button to populate the fields with liabilities from the Loan Estimate that are marked for payoff.
Note: Payoffs and Payments from the Loan Estimate > Payoffs & Adjustments screen are populated by clicking the Copy from Loan Estimate button.
To add additional payoffs or payments, enter where the liability or adjustment is being paid in the To field.
Select an item from the Liabilities and Adjustments dropdown list or enter it directly into the Liability Type field.
Specify whether the item is a Closing Adjustment or Liability from the Type dropdown menu.
If you selected Closing Adjustment from the Type dropdown list, the Entity and Name fields become available. These fields are used for Fannie Mae and Freddie Mac Uniform Closing Dataset (UCD) and does not print on the Closing Disclosure.
Enter the party making the payment or adjustment in the Paid By field if the POC checkbox is being used.
Specify whether the payee is an individual or legal entity (corporation or business) by selecting an option from the Entity dropdown list and entering their name in the Name field.
Note: This information is for UCD purposes and does not print.
Enter the amount of the liability or adjustment.
Use the POC checkbox to indicate any liabilities or adjustments being paid outside of closing.
Note: Prepayment penalties entered here are used only for UCD. They are not populated on the printed Closing Disclosure form.
Important: The Total Payoffs and Payments value is automatically populated in the Payoffs and Payments field in Section K in the Summaries of Transaction section on page 3 of the Closing Disclosure.