Open Point file.
From the Borrower Information screen, click the Mortgage Insurance button at the bottom.

3. From the PMI/MIP window, in the Monthly Mortgage Insurance section, make sure the Cancel at field is blank and then click OK.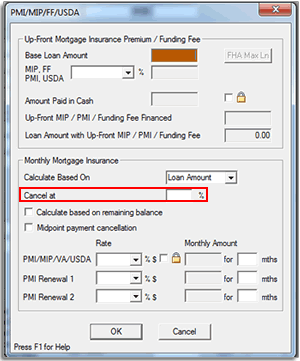 Additional Information
If the Cancel at 78% is defaulted in every new loan file, this is caused by using master templates.
To fix the master templates:
Select templates from the navigation panel in Point
Select borrower master
Open all master templates, and
Follow steps 2 and 3 for every master template.
Per mortgage letter 12-4, the mortgage insurance will remain for the life of the loan unless the mortgage insurance will cancel at 11 years. In this case, please enter the amount of months into the months field within the Mortgage Insurance button on the borrower information screen to indicate when the mortgage insurance will cancel.