2504 Inserting today's date on a custom form
You can use Microsoft Word to insert the current date into a custom form. It will automatically adjust every day.
Open Point.
From the Navigation Panel, click the Templates tab.
Click Custom Forms/Letters/Email.
In the Workspace, double-click the custom form into which you want to insert the date.
When the custom form opens, go to the menu bar and select Insert.
Click Date and Time.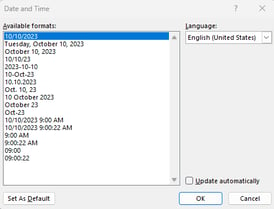 7. In the left pane, highlight the date and time format.
8. Insert a check in the Update Automatically checkbox.
9. Click OK. This inserts today's date into the custom form. The date automatically adjusts every day.