Open a loan file.
From the menu bar, select Forms > Notice of Action Taken.
In the Action Taken section, select one of the four options from the Action Notice dropdown list:
Notice of Incomplete Application
Notice of Counter Offer
Notice of Withdrawn Application
Notice of Credit Denial
Select the HMDA Action Taken that was taken on the loan file and the Action Date.
Enter any details regarding the notice in the Notice Detail field.
The checkbox for Our principal reasons for denying your original request... and the date field for Counter Offer expires... are only enabled when Notice of Counter Offer is selected as the Action Notice.
The Denied Date field is only enabled when Notice of Credit Denial is selected as the Action Notice.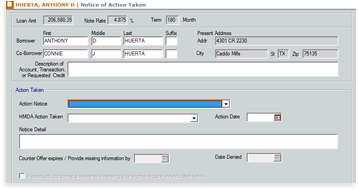 6. In Part 1 - Principal Reason(s) for Denial, Termination, or Other Action Taken check the applicable boxes that apply to this loan.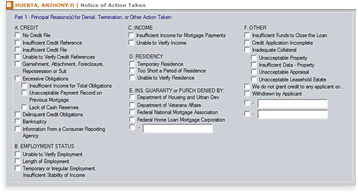 7. In
Part 2 - Disclosure of use of information obtained from an outside source
click the
Copy from Credit Score Disclosure
button.
Select which credit score and factors will print on the form.
8. The Credit Score Information Disclosure must be filled in first and can be accessed from the Forms menu.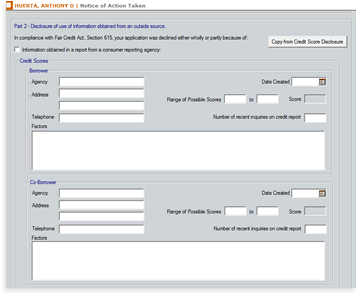 9. From the Delivery Method section, select which type of delivery method you will use to provide the form to the borrower and the date.


10. Click File > Print to print the form.
Note: There is a different form for the borrower vs. the co-borrower. The co-borrower Notice of Action Taken is located on the print menu, Notice of Action Taken (Co-brw).
Printing the Denial address at the bottom of page 2
From the menu bar, select Utilities > Company Defaults > Denial Letter Address.
Fill in the fields and then click OK.
Print the Notice of Action Taken form.
The address that was entered under the Utilities menu will print in the Notice section at the bottom of page 2.