Code 321 Loan Validation Error
Description: Loan Validation Error.
Note: An Error Code 321 is a general error result about incomplete loan information in the file.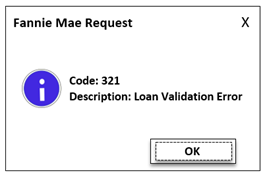 Steps to take:
1. Confirm that the loan application sections 1-9 are fully filled in.
2. Confirm that the Lender Loan Information-1 and Lender Loan Information-2 are completed.
3. Confirm that the Loan Estimate Form is selected on your Fees Worksheet according to the loan type. Standard Form for purchases and Alternative Form for refinances.