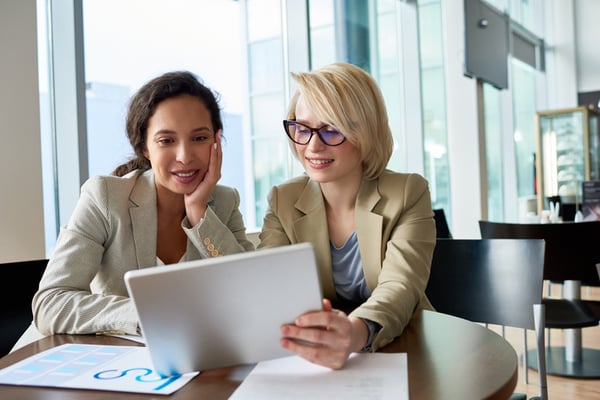 Borrowers are craving digital mortgages and don't mind if the entire journey is online. In fact, a survey by Fannie Mae found that two-thirds of borrowers would be interested in a fully digital mortgage.
Although customers don't want to eliminate the human element from the equation (the same survey revealed that 65 percent of respondents prefer to have a person explain terms and options, and 58 percent want someone to help them review final documents), they welcome the opportunity for a streamlined process and faster closing.
Of course, digital mortgages also offer tremendous advantages for lenders, not the least of which is happier borrowers. Here are five benefits you can expect to enjoy by offering a digital mortgage:
1. Meet borrower expectations
Millennial borrowers—who now comprise the largest segment of home buyers—have grown up with digital technology, from the ways they communicate with others to how they shop, gather information, and register for almost anything.
The expectation of electronic convenience has extended to securing a mortgage, so if you put a paper form in front of borrowers and expect them to fill it out by hand, you may lose their business to a non-bank, online-only lender who they believe better understands their needs. A digital mortgage proves that you value the borrower experience and your customers' time and effort. This message will become even more critical as Generation Z starts entering the housing market.
2. Conduct interviews easily
Borrower interviews, though necessary and valuable, can be time-consuming for all parties. Digital interview solutions such as Calyx Zip™ take the process mobile, allowing customers to answer all necessary questions from any device, anytime and anyplace they want. The loan origination process gets off to a fast start with the online interview, simplifies a perceptively daunting process for borrowers, and is millennial-friendly.
3. Helps with verification
The documentation, verification, appraisal, and underwriting processes of a mortgage are unavoidable and time-consuming. An automated digital mortgage process means these necessary tasks will require less time and hassle for your team. Digital asset, income, and employment verification is a great example of technology streamlining loan originations. FormFree, one of Calyx's integrated technology partners, automates the process with their AccountChek service, which finds the information lenders need without burdening borrowers to provide it. By making the process simpler for your customers, the accurate data returned can save as much as 20 days off time to close.
4. Assists with strong compliance
The stricter regulatory environment intended to protect consumers and lenders has also increased the due diligence and paperwork necessary to originate loans. Going digital brings much of the data crucial to compliance into your system during all phases of the application and underwriting process. The best platforms are pre-loaded with relevant compliance frameworks (and are updated when needed) and can be customized to a lender's unique requirements.
5. Improves access, convenience, and efficiency
Digitization improves the process for loan personnel, who can access documents, files, and other data remotely, whether they are across the office or across town. The ability for multiple users to easily originate a loan reduces time to close; the bottlenecks created from a traditional mortgage process—essentially, one person waiting for paperwork to clear from another person—aren't an issue with a digital mortgage because access, convenience, and user experience are at the heart of the process.
The efficiency benefits for borrowers are obvious: A digital mortgage is less stressful, closes faster, and identifies any potential problems to be corrected sooner. For lenders, the efficiency benefits are even more impressive. Tasks and processes that required time and paperwork now sail through in less time, but without losing proper due diligence. This allows lenders to not only process more mortgages and increase profits, but also better serve your borrowers, who are bringing high expectations of quality service to your institution.